Display Cases
Early on in my woodworking career, I started building display cases. It is the kind of fine woodworking that fits the scale I prefer, which is things I can carry in my two arms. Display cases need to be finely crafted, commensurate with the contents, yet not distract from the showing of the contents. They have to almost disappear.
As you will see, my interest in solid geometry came out to play with the display cases I built. Truncated cubes and rectangles, stretched into rhombus sided shapes, fascinate me, inspired by images of crystals. Over the years my techniques improved, and I was able to build more elaborate and delicate cases.
A case needs to be structurally sounds, and support panes of glass. The glass needs to be installed in a manner which allows easy removal if repair is required. My solution was to build a frame for each facet of the geometry of the case, with splined mitered corners. The frame cross section is shown below. The glass sits on a rabbet, and a stop is pressed into a dado groove. The stops can be made of the same material as the frame, or be a contrasting color. Once the frames are all complete, they are mitered along the edges to form the geometry desired.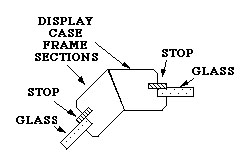 | | |
| --- | --- |
| | The first case of this style was for a model ship which I had built many years earlier. It was a full plank-on-frame model of the clipper ship "Pedro Nuñes". The Mendocino Woodworkers Association had just formed, and hosted the first of a series of semi annual woodworking shows. I decided to build a fine case for my model ship. It was one of the pieces that sold out of the show. The material is coastal Tan Oak. |
| | | |
| --- | --- | --- |
| | | Imagine a cube, and stand it on one corner. Chop off the bottom corner, leaving a triangular base, then pull the top corner up, making each side a rhombus. The case splits along the zig-zag at the equator . A small glass shelf finishes off the piece. The piece on the left is made from Madrone, and the piece on the right is Rosewood. |
| | |
| --- | --- |
| | This piece is made from coastal Tan Oak. The top of the case lifts off of the simple base. |
| | | |
| --- | --- | --- |
| | | This is a cube, truncated along each edge, and then truncated again on each corner. The woods are Rosewood and Madrone. I did a little inlay on one of the corner facets. The base is laminated bent wood Madrone. The top splits at the lower edge of the full square side. |
| | | |
| --- | --- | --- |
| | | This wall hung case is one of my favorites. The wood is Madrone, with a strip of Black Walnut accenting each line. There are three glass shelves inside. The front face is a hinged door. |
| | |
| --- | --- |
| | This case is made of California Black Walnut. There is a small drawer in the lower portion, that is accessed when the back door is opened. I made a pair of these for another of the Mendocino Woodworkers Shows. |
| | | |
| --- | --- | --- |
| | | In 1977, I started making small turned wooden vases, and discovered the world of fine scale miniature doll house items. I needed a display case for my vases and made a pair of these shadow boxes. The material is coastal Tan Oak. The case corners are joined with hand cut dovetails. |
| | | |
| --- | --- | --- |
| | | This case is a puzzle, based on designs I made (see PUZZLES). The material is Madrone. On the left is the before shot, with all the pieces laid out. The right is about 15 minutes later, with the case all assembled. Access is through sliding panels in the back. |