Stained Glass
In 1972 I started working full time as an engineer at Diax Corp., a small geophysics start up company in La Jolla, Calif. We were working intense 60 hour weeks to get a prototype instrument ready for a test deployment in New Mexico. I decided I wanted something to distract myself, so I took a 6 week stained glass class at a studio in La Mesa.
As a method of teaching the basics techniques, each of us chose from a set of simple patterns, and made a student piece. This is a detail of that piece.
I wanted to make more pieces, but materials for stained glass are expensive. I offered to make pieces for family and friends, if they would pay for the materials. My mother was always a supporter of my creative activities, and offered to have me do her front door. I had been taking slides for years, and we selected an abstract image she liked. It was reflections of a wooden railing in the slow swell of the San Diego bay. I selected a portion of the image, rotated it, and changed the color pallet. This is the result.

The next piece was made for my friend David Willoughby. We again chose an image I had photographed. In this case it was the breast feathers of a jungle rooster at the San Diego Zoo. Again, we picked a portion of the image, but kept the color pallet. This is a double hung window in an older house in east San Diego, so we added a border motif fitting of the architecture of the house.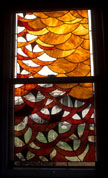 Here is a detail of this window.

The next window was done for Georgeanne, the secretary in the lab where David Willoughby worked. He talked her into the deal, designed the window, and built the custom bent wood frame. This house is in Pacific Beach in San Diego, and Georganne wanted to live in the country, with trees. This is the view from the inside.
| | | |
| --- | --- | --- |
| | | This is how it looks from the outside. |
The next was done for Rella, the secretary where I worked at Diax Corp. She rented a small house on the cliffs in Del Mar. The front door was beautiful, but had a clear window which looked right into the main room of the house. Rella wanted a little more privacy, so we designed a window which would be more opaque, yet still let in light. This image is yet another slide. This is how it looked from inside.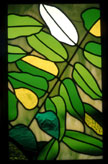 And this is the view from outside.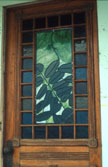 The next piece was made as a gift for my friends Suzanne and Dominique, who were living in Berkeley, Calif. I have always been fascinated by M. C. Escher's work, and designed this little hanging inspired by his images.
In the September of 1973, I moved to Mendocino, Calif. I had found a small 2 bedroom house at the end of Nichol's Lane, about 1.5 miles inland from the town. As part of my process for feeling comfortable in my new situation, I installed a small piece of stained glass in one of the windows. This was a slide image of a spider web, with some of the pattern colored in.

My one and only excursion into speculative stained glass production was another Escher inspired image, set in a redwood frame. I took this to a gallery in San Francisco, Calif, where it eventually sold.
In October of 1973, I started working as a helper on a construction crew. Jughandle Woodworks was building a painting studio addition for Ed Hauser. Ed found out that I did stained glass, and suggested that I might do a piece for the Mendocino Art Center, where he worked. There was an odd shaped opening that had been framed into the outer wall of the library, and I was offered a chance to fill it. The design came to me in a dream. It represents aspects of the four elements, with wisdom and transcendence in the center. This is the view from inside.
The Art Center was impressed with what I had done, and offered me a spot teaching a class, which I did for a couple of years. Ed Houser also asked me to do a commission for a window and door in his art studio.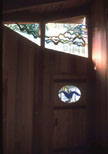 I love stained glass, and the richness of the colors you can find in fine glass. However, the cost of materials is high, being so energy intensive. The result is a product which is very expensive, with a limited client base. I haven't done any glass work since the middle 70's, and eventually gave all my materials to a woman who was doing glass full time. However, I still have my tools, and will probably add a taste of stained glass to my own house some day.