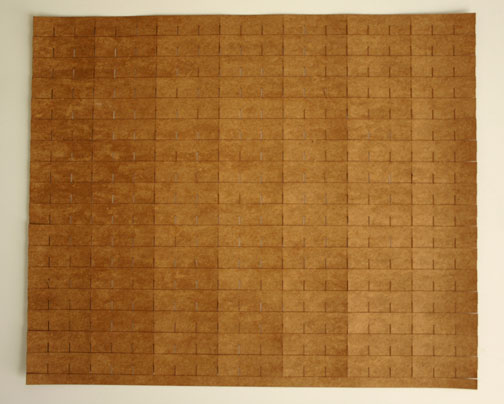 This sheet of Three Tab Shingles is made of a water proof gasket material. Each sheet is 8-1/4" x 10-1/2", with 16 rows of shingles. The rows are laid with a 1/4" overlap, so each sheet will cover 42 square inches of roof.
Carefully cut the rows apart. Start at the bottom edge of each roof surface. The 1/4" strip along the bottom of the sheet is used at the lower edge as a starter course. Glue each row to the subroof with a waterproof adhesive, oriented with the notches down. Make sure that the tabs are glued well, or they may curl up with age. Overlap each row to the top of the notches in the lower row, parallel to the bottom edge. Real roofing is laid with a 1/3 tab lateral offset on each row, so that the notches only line up on every third row. Roof edges are best protected with an edge molding made of angle. 1/8" x 1/8" brass angle works well for this molding. Roof peaks are capped using full tab pieces cut from the rows. Roof valleys can be underlaid with a strip of building paper, or by overlapping the coarses of shingles on each roof surface. Check with prototypical roofing methods.
The sample below shows how the shingles are laid. The right third has been spray painted for color, and the middle section has been stained with Minwax Walnut.